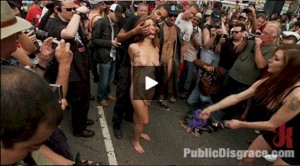 There is a very interesting article in the Atlantic, "The Ethics of Extreme Porn: Is Some Sex Wrong Even For Consenting Adults". Being the Atlantic, although thorough, it also relates some very dogmatic and (to me) quite offensive responses. But the author has written a fairly well-reasoned piece. It is all in response to this essay by Emily Witt on N+1 "What Do You Desire"
I don't want to spend a long time summarizing either the article or the essay. If you are interested in examining the impact of certain kinds of sex and its remediation (porn) on the concept of sex itself, cultural constructions of it, and personal experience, it's really worth your time to read both. Nonetheless, the essay in question is basically an account of the writer who witnessed and interacted with some of the participants in the production of a piece of porn vaguely reminiscent of Chuck Palahniuk's novel "Snuff" – but perhaps a little edgier and with far less narrative. One girl, an audience of willing participants, and the appearance of pretty much anything goes that isn't life-threatening.
It's funny how the presence of sex blinds us to looking at something dispassionately. Because the narrative of the essay contains sex, society dictates that we must view it and dissect it in a very specific way. We must talk about it in terms of morality, of feminism, of how it colours are perceptions of sex. In reality, there's very little difference between Public Disgrace and what the Romans used to do for entertainment at the Forum. What Public Disgrace shows is that a lot of us haven't moved on much, emotionally or intellectually, in terms of what we find entertaining. Luckily, we don't require the death of the participants anymore. The symbolic and very public decimation of identity seems to be enough. So, one could say, we've become more nuanced.
For me, there are two interesting and rather disturbing aspects to the articles and to the production of things like Public Disgrace itself.
The first is this insistence that the public decimation of identity is a perfectly acceptable entertainment commodity. There is a blatant hypocrisy going on with the producers of the porn. The unspoken sub-text is that this is all good clean fun and there is no lasting damage. If it were all good clean fun, it wouldn't turn us on. Sporting a sign saying 'I am A Worthless Cunt' is a lot of things, and it may be entirely consensual, but marketing it as spectacle which has no lasting impression on either the recipient of the sexual degradation or the participants and witnesses to it is disingenuous. Don't get me wrong, I'm not condemning someone's penchant for sexual humiliation. I'm condemning the selling of it as superficial entertainment. Because you'd have to be almost brain-dead to walk away from that spectacle, whether participant or witness, unchanged.
And before you start feeling smug ("Well, I'd never watch or participate in anything like that"), you should stop and think. Because if you've ever watched a reality TV show and felt the shiver of pleasurable Schadenfreude to see someone get publicly torn to shreds on American Idol, or any other program where a set of co-participants or a panel of judges take great pleasure in proclaiming how abysmally the participant has failed, then you've dipped into that rather murky pond yourself. Don't let the absence of explicit sex fool you.
The other thing that disturbs me is a pattern I've seen emerging for some time, facilitated by our technological ability to remediate things fast and broadcast them to a wide public. The reveal of this comes at the end of the "What Do You Desire" essay, in the form of a snippet of interview – when the girl who features in the porn was asked what she liked the best about the experience:
PENNY
Probably, uh, just the getting handled by everyone and not really knowing how many hands were on me, or who was touching me . . . And then the—I don't know, did you get your fist in my butt?
DONNA
I did.
PENNY
Well, that was awesome. Yay! I can't wait to see it!
Buried in this interchange is a creepy little statement. That having a fist in her ass was not the ultimate experience. Viewing the video evidence of it will be.
For me, it is not the mainstreaming or openness of explicit sex or kink that is the problem. The issue is that there is something inherent in its marketization that shifts the value off the interior experience of the sex itself and onto its status as a publicly remediated product. This is no longer about the pleasure or intensity of the lived experience. It is about the broadcast of its evidence.
It is as if the gaze of others, the knowledge that others have consumed the remediation of your experience that has become the only real site of pleasure. As if we no longer simply require sex organs to experience erotic pleasure. We require a viewing audience to confirm that we felt it.